The Diocesan School for Christian Studies offers a wide variety of courses including the standard disciplines of study in the church. Any student may take one to four courses each semester. However, to receive the Certificate of Completion, the basic courses of the Three-Year Curriculum including Scripture, History, Theology, Liturgy, Pastoral Care, Spiritual Journey, Homiletics, Outreach Ministry, Christology and Ecclesiology must be successfully completed, with a passing grade in each course.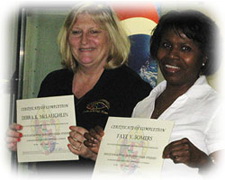 A significant amount of independent reading and study is expected of students in the Diocesan School, as well as attendance at each lecture/discussion period in the semester schedule. Most instructors will require writing of papers and exams may be given.
Students may attend the School on a full-time basis, registering for four courses each semester, or on a part-time basis, registering for one or more courses as their needs, interest, and time for study permit. Taking courses in their logical sequence is preferred.
All courses are open to ordained as well as lay persons. Course offerings at the Diocesan School seek to enhance the total ministry of the Church with its primary focus being spiritual development through education, prayer, and worship.
The Diocesan School year consists of Fall and Spring semesters of eight Saturdays each semester. You can download the latest version of the Diocesan School manual by clicking the icon on the top right of this page (or at the bottom on your phone/tablet.) The manual is available in Adobe .pdf format.